The number of Egypt's startups has ballooned in the past few years as the Egyptian society's perception of entrepreneurship is particularly high and continues to grow especially with creating broader awareness, technology paving the way for launching their new businesses and expanding the pipeline of entrepreneurs for more entrepreneurial activity than ever before.

Entrepreneurship and Startup business had been reasonably Growing and maintain profitability steady. The business is getting bigger, as were its problems, risks, and opportunities.

In order to manage a growing business, a strategic partner is needed to financial leadership and flawless execution; manage financial reporting, contract negotiations, monitoring cash flows, and strengthening your accounting and finance team.

As the common English saying goes, you have to spend money to make money and that means it's a pretty hard to make money in a business without investing some money in the first place. But Startups are typically characterized to have a limited capital and a lean operation, and as the business are growing rapidly, it triggered the need for a way to work with professionals at an affordable cost.

With outsourcing, Entrepreneurship and Startup business are able to harness the expertise of highly skilled professionals at affordable cost, and here is comes the most important question "Does my business need a Virtual CFO?"


It is vital to have an experienced hand steering the financial side, even if the full-time CFO is not affordable in the budget. Fortunately, there is an alternative that solves cost dilemma beyond expectations.
Although Virtual CFO will not be daily on-site, but will always be available and accessible keeping an eye on company's cash flow, profitability trends, expenses, budget management, sales trends and financial risk with only a fraction of the cost of attracting and hiring a full-time CFO.

A Virtual CFO can add an immediate value to the business, by allocating resources to where they generate the highest return on investment, but instead of providing those services in person, the virtual CFO does so remotely Virtual CFO supports business with the needed financial analytics and insights, strategic direction and identifies opportunities.
Functions of Virtual CFO:
Key benefits of investing in a Virtual CFO for your business:
Hiring a Virtual CFO is an investment in your business because of their ability to improve the financial operation, grow sales, profits and cash flow, and develop the annual financial plan and track performance against it.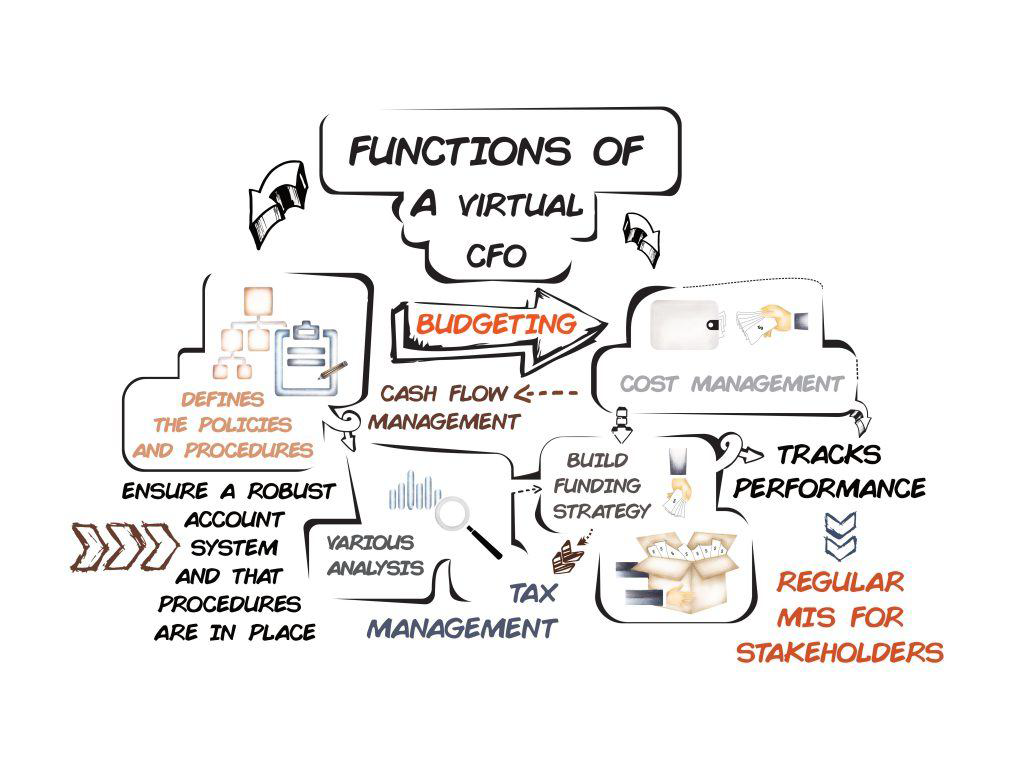 Affordability
No business is too big or too small for benefiting from CFO experience in improving the business growth, operations, and profitability levels, Virtual CFO can give the expertise that is necessary for your business in a significant lower cost from the Full-time In-house CFO, it allows streamline the spending when hiring on a full-time CFO is not justified.
Increased Productivity:
Using a Virtual CFO allows owners and managers to focus on the core responsibilities and saving your time which drives productivity up. It is all about working smarter, together – not harder, on your own.

Specialist skills:
A Full-time CFO is regularly specialized in one field; in strategy, forecasting, or the legal side of business, but what if a periodical service is needed such as a tax expert? or what if you want to add new line business to diversify the company business model?

Using a virtual CFO Service can solve it by getting a team rather than a single CFO even if he is an expert.

Independent perspective:
An in-house CFO who is engaged on a daily basis with the business can be affected significantly by this propinquity, he can develop loyalties and form agendas that could affect his viewpoints as objectivity is a difficult commodity to come by. Virtual CFO can offer clear and Independent perspective view and provide unbiased advice for decision-making.


Multiple Industry Experience:
Partnering with virtual CFO provides you with broader range of knowledge and experience than hiring a specialized In-House CFO, virtual CFO had worked with a diversified pool of clients in a diverse range of industries in public sector, private sector and ever in non-for-profit organizations bringing you a diversified knowledge and skills to the table. This provides an opportunity for multilayered insights and networks to your company.

Cash flow management:
Cash flow concerns are common for small to medium enterprises and startups, complex problems below the surface are generated due to the lack of clients' awareness of cash cycle and the cash flow efficiency importance. Although you can find the business is prospering, but can't seem to find the cash needed to pay for day to day transactions.

A virtual CFO will streamline the operations helping you gain financial control and clarity, understand the current cash position and how to maximize cash flow and safeguard the health of the business and implementing a cash flow management strategy.

Advanced financial planning & analysis:
Virtual CFO is more likely to have the expertise visibility and clarity over the business financials, giving the power to make the suitable and accurate decisions. Virtual CFO can ensure that the financials is best matching the Standardized Reporting and Formatting, You can breathe a sigh of relief making sure that the business financial statements are accurately prepared by a professional that adopted the most widely accepted best practices for generating and formulating financials and reports.

Providing strategic guidance:
Virtual CFO is providing beyond the financials, he reviews your operational process ensuring the company is operating efficiently and effectively, monitoring accounting systems, and confirm the marketplace branding and its consistency with the operations. Virtual CFO is providing the best strategic guidance positioning your company for profitable and healthy growth.

Flexibility:
The business requirements are rapidly changing over the time especially when the business significantly grows. When it comes to virtual CFO he worked with organizations in a different sizes, industries and stages of growth, he maintains the flexibility to grow right along with you, brings a tried and true solution to the table, and adapt to the business shifting needs.

In short, a virtual CFO can provide all what In-House Full-time CFO can do but in a cheaper and affordable cost, more professional, and more independent. The most importantly of all, virtual CFO is accessible to small businesses and startups in a way that In-House CFO rarely does.